Logopress3 3D Die Design
Logopress3 Die Design software includes Unbending, BLANK, Nesting, Strip Layout, and 123GO Advanced. More features are outlined below.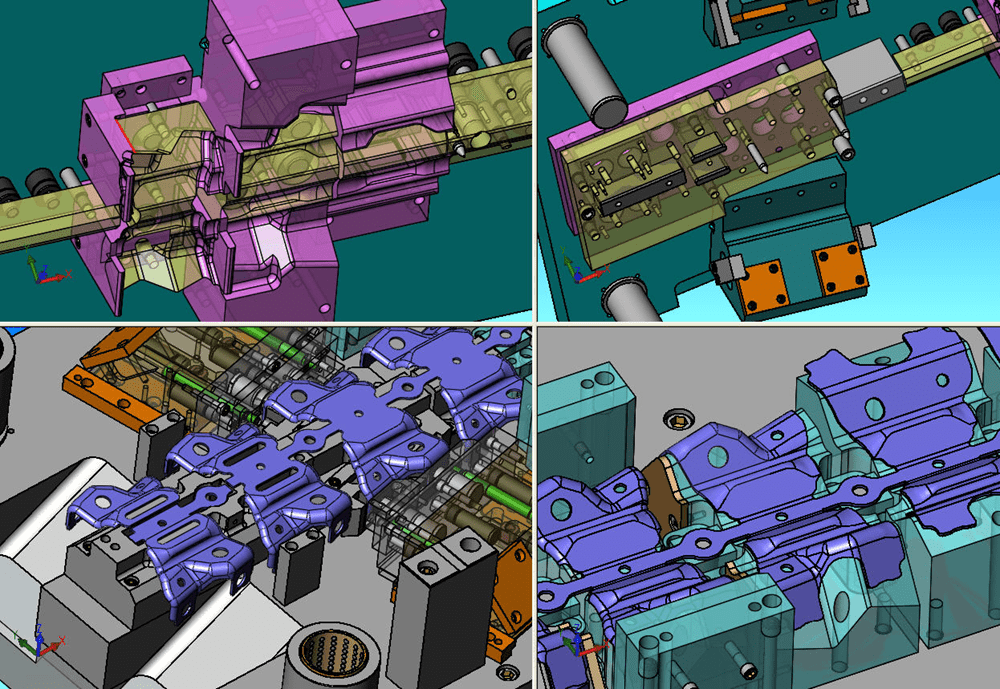 Tool Structure
Logopress3™ Die Design Software includes a powerful Tool Structure Assistant that allows you to quickly model the main die components. It is also very useful throughout the entire die design process when you need to insert additional plates or sub-assemblies.
You can very easily and very quickly insert a plate or a sub-assembly and then adjust its dimensions. The plates can be named at this point and material type and heat treatment can also be specified at the time of insertion. It also acts as a Mate Manager so that you don't have to search the feature tree for mates.

Component and sub-assembly insertion feature dedicated to the die design needs
Customizable plates
Customizable die sets
Automatic mate management
Customizable material database
Customizable heat treat callouts
Standard Component Library
No die design software is complete unless it has a thorough Intelligent Standard Component Library. The Logopress3™ library not only inserts the component you select but also cuts every hole in each plate and automatically manages all mates.
It manages both millimeter and inch components and includes literally dozens of vendors that you are also able to add to. The only way to understand how powerful, user friendly, flexible, customizable, strong and complete it is, you must see it for yourself.
Holes are cut and components inserted with one mouse validation click
Standard Hole Wizard holes
Automatically sizing of components
Choice assistant
Automatic patterning
Edit definition
Smart copy and paste function
Customizable library
Automatic mate management
Automatic hole creation
OpenGL preview
Wire EDM hole management
Dozens of custom and multi stepped holes - all hole chartable
User defined custom components
Punch Mounting
Logopress3™ also includes powerful features to "Mount" the cutting, bending and forming punches (cut all openings in all plates). Punch Mounting would be a huge amount of work without this dedicated feature since so many die components are involved which each needing different clearances. Logopress3™ easily manages this with only a few mouse clicks and dialog box settings. After you define the first one, Logopress3™ stores your preferences in order to save even more time for the next mounting.
If later on you decide to create an insert around your punch or die mounting, Logopress3™ offers you a dedicated feature to do this very easily, including the ability to automatically create a shim under the insert.

Cutting punches
Automatic plate recognition
Bending punches
Coining management
Forming punches
Cut all openings in all plates
Clearance management
Relief type management (tapered or stepped relief)
Shoulder, heel, pedestal and roof management
Locking tab management
Editable mountings
Store user defined preferences
Punch mismatches/undercuts
Corner relief options
Die Simulation & Interference Detection
In addition to all of these tools & features designed to increase your productivity, Logopress3™ also includes an Intelligent die simulation command along with a Dynamic Interference Detection command. This command provides far more than just a visual animation. It automatically does dynamic interference and collision detection between the four main sub-assemblies of the die, while showing the entire die operating as if it were in the press, including the strip lifting and advancing with each press stroke. This assures that mistakes are caught at the design stage and not at the much more expensive and time consuming build stage of the die.
No time consuming setup required. Just press the icon and set your press stroke, stripper travel and strip lift
Detects collision during strip advance through the die
Highly visual and accurate representation of the die running in the press
Finds clearance issues before the die goes in the press
Tool & Die Hole charts & Bill of Materials
Logopress3™ has multiple tools for automatically creating the 2D drawings for the 3D model, including automatic population of title blocks. These tools enhance the tools already in SolidWorks™ and include a specific and powerful Logopress3™ Hole Chart Feature as well as a specific and customizable Logopress3™ BOM. The Logopress3™ Smart Ordinate Dimensioning command makes dimensioning extremely fast.
Solidworks™ along with Logopress3™ make the creation of detail drawings very easy and fast, with considerable flexibility allowed for user preferences.
Logopress3™ takes full advantage of all of SolidWorks™ power and ease of use and includes many other dedicated tools based on our 25 years of experience that will make today's modern die designers much more productive. In the end, you will be much more profitable.
Front side and back side holes in the same chart
Automatic, complete, and very detailed description of every hole in addition to the X and Y data for each tag, tolerances and also the standard component going into that hole
Many options for automatic sorting/sequencing of balloons
Populates sizes of without needing reference dimensions
Automatically sort/group upper, middle & lower parts as well as standard components