FTI FormingSuite Professional
The most powerful stamping analysis tool for blank development, process design, and incremental simulation.
Combines: FASTIncremental, FASTFORM Advanced, and FASTFORM MultiStage into one powerful package
This seamless scenario covers the entire process from quoting to process design to virtual prove-out with speed and efficiency not seen before.
Eliminates duplication of data entry
Creates the complete tooling process
Accurately determines material thinning and wrinkling
Automatic extraction of tooling geometry
FormingSuite Professional is a user-friendly combination one-step, implicit and explicit incremental analysis solution that provides a complete virtual die development and tryout for tool and die makers. It requires no FEA background. It offers many new advanced features such as automatic blank size, shape and location, automatic process setup, and automatic binder closing and wrap.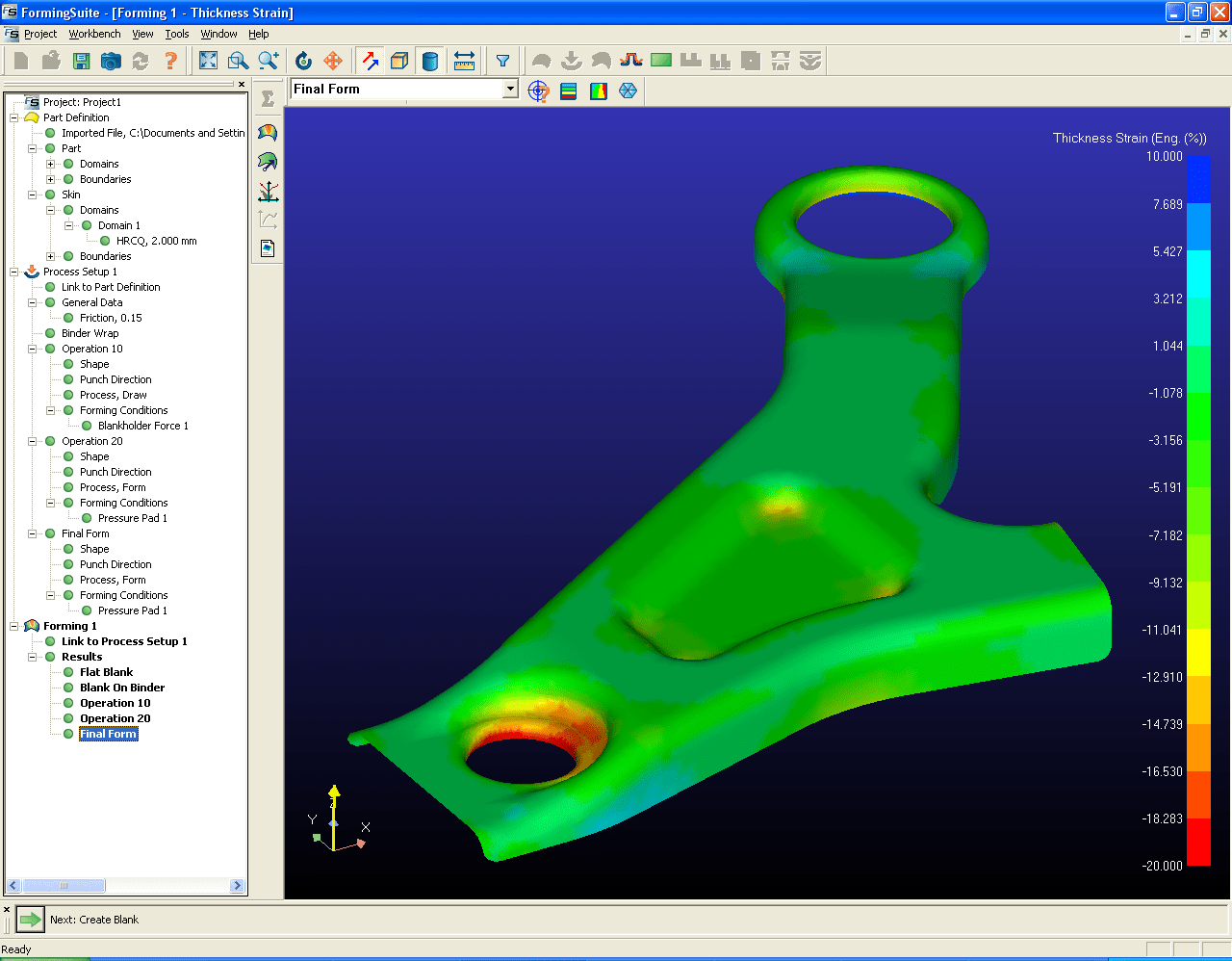 FASTIncremental
FASTIncremental is a user-friendly incremental analysis solution that provides a detailed virtual die tryout for users with limited FEM background. It offers many new advanced features such as automatic blank size, shape and location, automatic process setup, and automatic binder closing and wrap.
FEATURES:
Binder wrap calculation based on inverse technology
Automated tool extraction from provided first form geometry
Analysis controlled through FormingSuite graphical user environment
Pre- and Post-Processing is done in a single, intuitive to use environment
Fully associative and regenerative to drastically reduce downstream design changes
Based on LSTC's proven LS-Dyna® solver
FastForm Advanced
The Most Accurate and ONLY Regenerative and Associative Formability Tool to Increase Productivity of Engineers by 70%
Identifies 90% of forming feasibility issues within minutes, to substantially reduce financial risks during product development
The most accurate and speedy formability tool from product concept to die design; pinpoint problem root causes, product versus process issues
When used as a front end to an incremental, will reduce number of incremental runs from 25 to 3
70% productivity improvement in evaluating multiple processing scenarios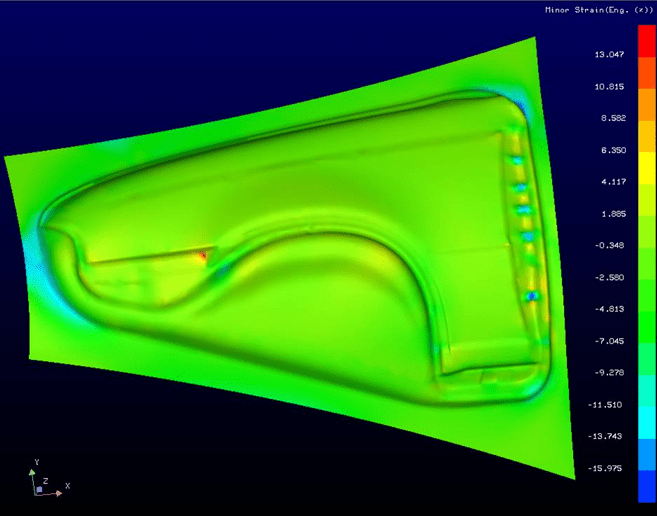 FEATURES:
The ONLY Regenerative and Associative environment for formability evaluation; simulates multiple processing scenarios in minutes with a regenerative tree
Uses the most accurate forming analysis engine and only one for tight radii
Materials database – populated by common materials; can add your own materials
Automatic Meshing - Powerful mesh generator to hide FEA complexity. Capable of filling holes, offsetting to mid-plane, and displaying undercut elements
Best in Class Skinning tool to convert from Solid into Skin, based on unique topology tool
Forming Conditions – Best in Class tools to simulate blankholder forces, drawbeads, pressure pads, pilot holes, and constraints
Curved Binder - Create or load a binder surface to create a more uniform draw depth
Springback - Determine the final part shape resulting from springback, with or without trimming
Tailor Welded Parts - Define additional materials for different areas of the part
Cut Off Dies - 7 standard blank outlines are available
FASTFORM MultiStage
Evaluate and validate formability for parts made from multiple stamping operations.
New solver technology that provides the tools necessary to analyze forming processes that involve multiple stages of forming
Track strains from one operation to the next while concurrently developing the blank outline for the intermediate forms
Ideal for Process engineers and Tooling designers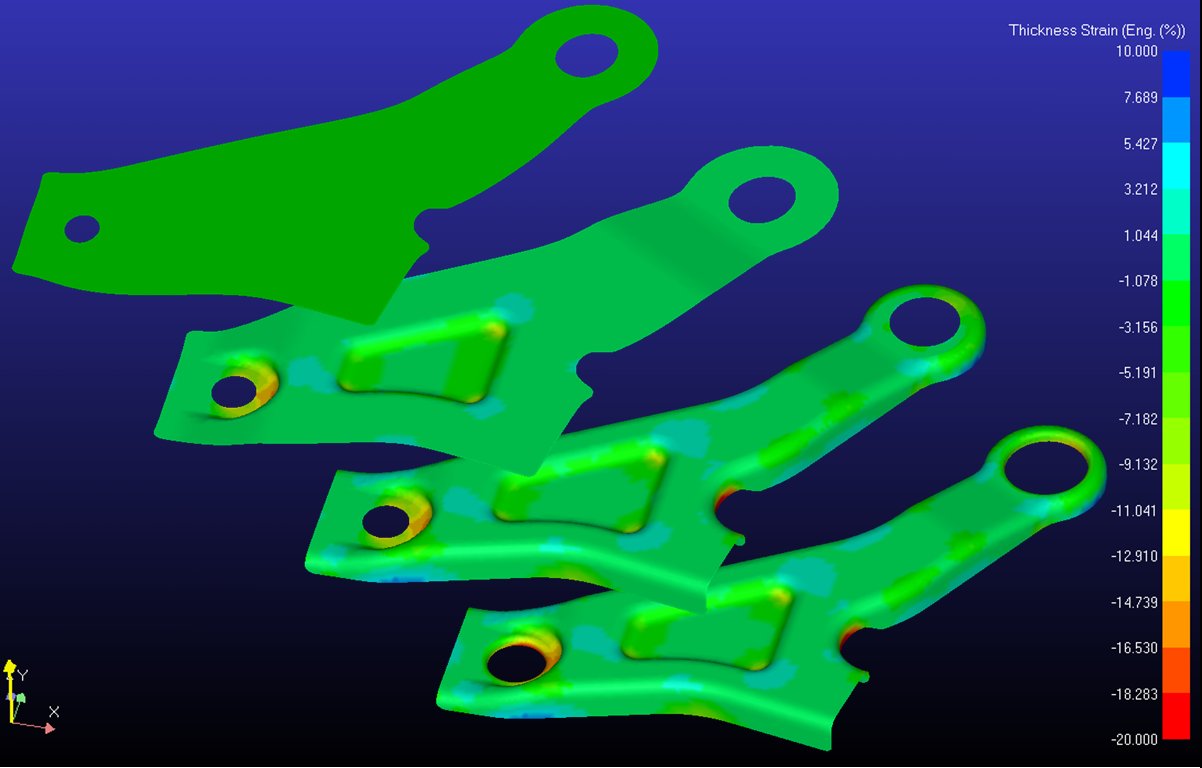 FEATURES:
Fast, intuitive interface makes the software extremely user-friendly
Considers the individual steps of the forming process
Develops accurate trim lines and blank shapes for multi-stage forming processes
Results provide guidelines for process layout, material selection, blank size, trim-line, blank holder and pressure pad force
Simplifies results interpretation by displaying specific formability results to depict splitting, wrinkling, and thinning on geometry
Detailed documentation system produces HTML, XLS format reports